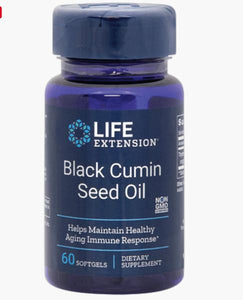 Black Cumin Seed Oil
These gel capsules are known to lower cholesterol in those with diabetes, reduce blood pressure, and help to eliminate mucus, eczema, psoriasis, asthma, sinusitis, and cancer.
WHAT IS BLACK CUMIN SEED OIL – Black cumin is one of the most ancient beneficial herbs. Don't confuse it with the spice cumin. Oil extracted from black cumin seed contains a component called thymoquinone, which has multiple health benefits.

HEALTHY IMMUNE RESPONSE – Black cumin seed oil supports your body's natural defenses. How? By helping to maintain the way a healthy immune system functions: black cumin encourages the vital activity of the immune cells that work together to protect you.

PROMOTES A HEALTHY INFLAMMATORY RESPONSE – Black cumin also helps inhibit inflammatory factors to support whole body health.

INGREDIENTS MATTER - Sourced using only the finest raw ingredients with the purity and potency your body deserves. This product is certified non-GMO and gluten-free.